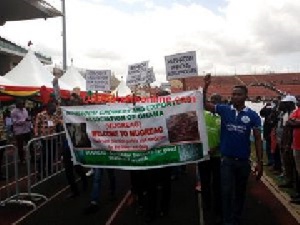 Mushroom Growers and Exporters Association of Ghana (MUGREAG) has called on government to consider mushroom for the school feeding programme to help sustain mushroom farming in the country.
It said mushroom which is nutritious could be added to pupils' foods.

The Association is crying over heavy losses in its mushroom business due to unforeseen spawns potent defect and deficiency.

The association described mushroom as high protein and medicine for the body which will help students to acquire more knowledge if government considers mushroom for school feeding programme.

The Ashanti Regional Chairperson for MUGREAG Mrs. Olivia Anim Tweneboah sharing their grievances in an interview with Abusua FM's Osei Kwadwo called on government's intervention to revive mushroom farming in the country.

According to Mrs Tweneboah, reviving mushroom farming in Ghana will help reduce high rate of unemployment in the country.
She said the vision of the mushroom farmers wishing to bring more of the youth into production has proved futile due to low patronage of mushroom.

"We can grow more mushroom but how to sell it has become a major challenge affecting the business. We all know that mushroom cannot last for long time, therefore we always need a ready market but sometimes it is difficult to get the ready market. We believe if government considers mushroom for school feeding, it will help solve some of our challenges," she said.

One District-One Factory Policy

Mrs. Tweneboah appealed to government to build mushroom factory in the Ashanti region under the One-District, One-Factory project.

According to her, government building mushroom factory in the region will revive mushroom farming from collapsing.