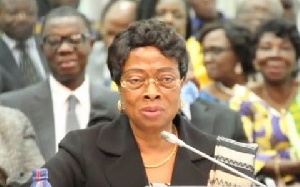 The law on contempt of court is meant to protect the sanctity and integrity of the judiciary but not meant to prevent anybody from talking, Chief Justice nominee Sophia Akuffo has said.
According to her, there was the need to safeguard the sanctity of the judiciary because it is the backbone of every stable democracy, as any attempt to undermine the integrity of the judiciary will not bode well for the country.

Speaking during her vetting by the Appointments Committee of Parliament on Friday June 16, Ms Akuffo said: "Contempt of court is not intended to gag anybody. Contempt of court, its focus is on the protection of the sanctity and integrity of the judicial process. It is intended to protect the process itself, not even the individuals who were offended.

"It is to protect the institution because, excuse me Honourable Legislators, at the end of the day it is when the justice system breaks down that is when a nation breaks down.
"There are countries without a legislature [but] they manage; there are countries with dubious executive structures [but] they manage so long as there is something they can call the judiciary. If there is no judiciary then we are back in the jungle."

When asked by Mahama Ayariga, MP for Bawku Central, to explain why the Supreme Court punished Network Broadcasting Limited in addition to the Montie Three – Salifu Maase (Mugabe), Godwin Ako Gunn, and Alistair Nelson – who were found guilty of contempt of the Supreme Court in August 2016, Ms Akuffo stated: "To start off with, I am not comfortable about being called upon to justify a judgment that we have delivered, but in general terms concerning the scope of exercising the contempt power or labelling something to be contemptuous, I believe that each case will dictate the outcome."

Ms Akuffo was nominated as Chief Justice of Ghana by President Nana Addo Dankwa Akufo-Akufo in May. If passed by the Appointments Committee after her vetting, she will replace Justice Theodora Georgina Wood who has retired.