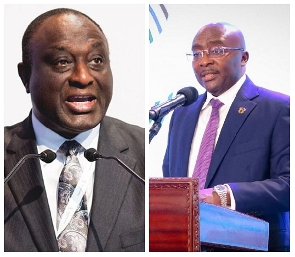 A member of the New Patriotic Party (NPP), Kwasi Korang has accused Vice President Dr. Mahamudu Bawumia's handlers of disrespecting Alan Kyerematen.
He claims that efforts were made to project Dr. Bawumia at public gatherings when other presidential contenders, notably Alan Kyerematen, were present.

As a member of Alan Kyerematen's campaign team, he suggested that the Vice President, Dr. Mahamudu Bawumia, who is supported by government appointees and national executives, has various concerns that could hinder their chances in 2024.

He expressed concern that if precautions were not taken, the party will be divided heading into the 2024 general election.

He referred to the party's final rally in Assin North.

He claimed that while Alan Kyerematen was addressing the crowd, his (Bawumia's) managers forced him to arrive and enter through the crowd rather than the authorised point of access.
"They should stop what they are doing because others may decide to retaliate, and others may come and tell us we should stop in the interest of the party." We should engage in live, respectful exchanges so that the party remains united when we elect our presidential candidate.

"No one is stopping you from campaigning, but when the party meets at an event and all the other aspirants are present, we only ask that Alan be respected."

He has also advised delegates to make a deliberate decision to support Alan Cash because he enters the campaign with no baggage.

For him, the NDC is prepared to undertake propaganda attacks against Dr. Bawumia, some of which are real and some of which are fraudulent.

He feels that those that are true may have an impact on their chances in 2024 if the Vice President is elected as a presidential candidate.
He was responding to a question concerning a statement he made about a candidate who he feels made comments that were recorded and might be used as a reference point if that person gets elected as a candidate.

"I am not in a position to answer that question," he said when asked if he was referring to Dr. Bawumia. The person who posed the question could also provide an answer. But I'm telling the NPP delegates that I was on another radio station and was asked why we don't want Dr. Bawumia to lead the NPP because he had suffered for the role, and some had even said he was a liar. And my response was that if you believe someone is a liar and have a candidate with unquestionable credibility, why settle for the liar?

If you type a liar into Google and the name of a candidate appears, and that is the person you want as a candidate, you do not want the party to win the elections.

You must file a candidate who is credible and has no issues surrounding him. I can't answer that, but I would emphasise that you need a candidate who will be much easier to market than someone whose credibility will be called into question, " he told host, Kwabena Agyapong.