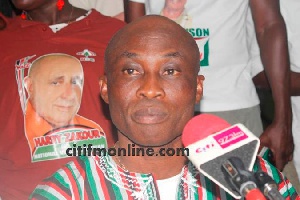 A Deputy General Secretary of the ruling National Democratic Congress (NDC), George Lawson has contradicted claim by the Deputy Minister for Water Resources, Works and Housing that the ruling government has the creation of the Western North region on its timetable.
The Member of Parliament for the Bodi Constituency in the Western Region, Sampson Ahi, described Nana Addo's Nana Akufo-Addo's promise to create a new region in the Western Region as a "political gimmick."

According to him, the idea of the new region was never part of Akufo-Addo's agenda, saying he made the promise because residents in the Northern part of the Western Region are yearning for it.

The legislator also said that the creation of the new region is nothing new since the government is mulling the idea.

However, his Deputy General Secretary George Lawson speaking in an interview with host of Eboboba, Kwabena Agyapong on Rainbow Radio 87.5FM said, the creation of the region is not on their books.

George Lawson said, ''We don't have it in our books. We don't have it. According to Samson Ahi, they've [residents] sent a petition through the regional minister to consider that. But we [NDC] have not put anything down. We have not come out to state categorically that we want to create a new region.
Samson Ahi said they [residents] have petitioned the president that they would want the creation of the Western-North region through the regional minister, that is what Samson Ahi said. He didn't say the NDC said so. The mischief is becoming too much.''

Nana Addo had said that the decision is based on the current large size of the Western Region and the urgent need for an efficient and effective administration and to also harness the abundant resources of the region for effective development in both the Western North and Western South regions.

Speaking at Juabeso in his five-day visit to the Western region, Nana Addo explained that "the northern part of the region [Western North] has to get its own region if Akufo-Addo becomes the next President of Ghana. My government will follow all the constitutional provisions to get this new region".

He, therefore, appealed to the people in the area to vote massively for the party to win both the presidential and parliamentary polls so that it could assume power to discharge that responsibility.