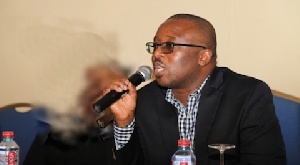 Chief Executive of the Ghana Free Zones Board, Kojo Twum Boafo has asked NPP flagbearer, Nana Akufo-Addo to stop making unrealistic promises and rather begin to address the corruptible practices in the New Patriotic Party (NPP).
According to Kojo Twum Boafo, all of Nana Addo's campaign promises from "One Factory, One District" to "One Village, One Dam" can never materialise.

He told host Kwami Sefa Kayi on Peace FM's 'Kokrokoo' that Nana Addo cannot be true to his promises; "he can't do it. Period!"

He further advised Nana Addo and his party to stop seeking equalisation with President John Mahama's administration because unlike Nana Addo, the President is making great exploits in the economy.

He, therefore, wants the three-time Presidential candidate of the NPP to address the corruption in the party, saying "as we speak now, the Police are looking for Freddie Blay, he said it's an internal matter. So, he won't go... So, they should go and fix that internal matter. The Police called him and Abankwah. They should and go fix that internal matter before you come and talk about the nation being corrupt."
He held strongly that if Nana Addo wants to expose corruption in government, he should begin from his own quarters.

"If you want to deal with corruption, deal with corruption in your own party first... Instead of dealing with Freddie Blay, he was rewarded with the Chairmanship. That is how you people deal with corruption. The person who wanted to find out where the money was, was removed unceremoniously. He had to escape in the back of his own truck.

"Don't come and tell us that you're going to deal with corruption when people steal money from your party, and you can't deal with it, or you refuse to deal with it and rather reward the people who have been accused of stealing the money," he said.