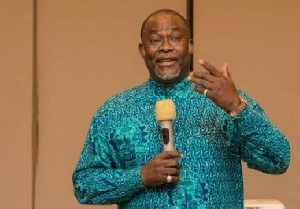 Former minister of Trade and Industry under the Mahama administration, Ekwow Spio-Gabrah is encouraging members of the National Democratic Congress (NDC) to stop the blame game that has been running the reputation of the party down to the ground since it lost the 2016 elections.
Mr. Spio-Garbrah who has run for the party's flagbearership before advised party members to allow Kwesi Botchwey Committee, tasked with probing the causes of the party's defeat in the 2016 election, to come out with its findings so that the party can be re-built on time for the next general election.

The party, following its electoral loss in the 2016 general election, set up a 13-member committee led by former Finance Minister Dr Kwesi Botchwey, to look into the causes for its defeat.

However, several leading figures of the party are on record to have publicly point accusing fingers on those they thought to have been the cause of their defeat.
Using an analogy of a broken vehicle, Mr. Spio-Garbrah said the NDC must focus on getting the party back on its feet for the 2020 polls.

"It is just like driving a very good car and the car has an accident and it needs to be fixed, so the first thing you want to do is take it to the mechanic and let the electricians do their work… Then when the car is in a good condition almost any driver can drive it and potentially bring it to the victory line," he explained.

He therefore urged party members and Ghanaians in general to cease ascribing reasons for the party's electoral defeat and await the report of the committee.