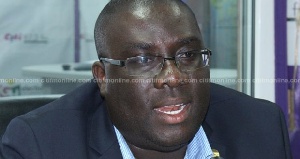 National Youth Organiser of the governing New Patriotic Party (NPP), Sammy Awuku, has asked the police to arrest the NPP youth who engaged in violence in Karaga in the Northern Region.
According to him, the NPP and the government cannot accept lawlessness from anybody in the country, whether or not those persons belong to the governing party.

His comments come on the heels of the 18th act of hooliganism carried out by pro-NPP supporters in Karaga in the Northern Region.

The group stormed a police station to forcibly free two of its arrested members and also vandalised an office belonging to the party. It also torched a motorbike.

The chaos was in connection with their accusation of the YEA Director of the region that he discriminated against them in a job recruitment exercise.

Speaking on Asempa FM's Ekossi Sen on Thursday, October 26, Mr Awuku said: "This matter is disturbing and reprehensible.
He added: "The police should arrest those youth, whether they are NPP or NDC or CPP. If they are arrested, we as NPP will not contribute finically or legally to release them.

"This is a strong warning to all the youth of the NPP and all that the laws will work. We cannot continue to condone stupidity, we can't accept that. We take a very serious exception to what happened at Karaga. The President is really working hard to fight against poverty in the country, and so we cannot allow saboteurs to be taking us backwards."

He continued: "Let me also caution those who hide behind the actions of the youth to foment trouble that the police will deal with them if they are caught.

"The police should act with dispatch, if the person has violated the law, he must be dealt with, it's as simple as that."