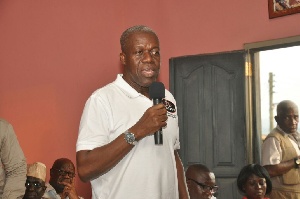 Vice President Kwesi Amissah-Arthur has said the main opposition New Patriotic Party (NPP) is not ready to take over the leadership of the country because it is not united.
He said a stable and peaceful country like Ghana needed a stable and united political party to steer its affairs, and the NPP lacks that unity to govern the country.

The vice president said this when he addressed NDC supporters at Tikobo No. 1, in the Jomoro constituency of the Western Region as part of his four-day campaign tour of the region.

He said because of the disunity in the NPP, its national chairman, first vice chairman, and general secretary had all been suspended.

He said the crime of those suspended was that they failed to toe the line of its leader.

According to him, a leader who cannot accept dissenting opinions, even in his own party, cannot provide good leadership for the country.

Mr Amissah-Arthur added that the NDC, unlike the NPP, was united, as its leader, President John Dramani Mahama, is a true democrat who accepts divergent views.
Mr Amissah-Arthur, therefore, urged the electorate to vote for the flag bearer of the NDC to ensure the continuation of "his good works".

"We are practising democracy and so within every party, democracy must also prevail, where everybody in a party should have a voice. But if you have a party which sanctions you when you say something contrary to that of the leader's view, then democracy is not practised by that party. NDC has a president who listens, whether he agrees or not, and deliberates on those varied opinions," he added.

The Director of Elections of the NDC, Mr Samuel Ofosu Ampofo, for his part, accused the NPP of propagating politics of fear anytime Ghana was going to the polls.

He cited a story on social media indicating that Ivory Coast was going to cut power supply to Ghana, which he said was false, to buttress to his point.

"My friends listening to me, Ivory Coast is not providing us power currently. This is the work of the NPP who are known for spreading fear and intimidation during elections," he alleged.