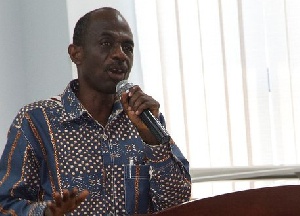 General Secretary for the National Democratic Congress (NDC) Mr Johnson Asiedu Nketia has cautioned the party against complacency as they work hard to make gains in the political strongholds of the New Patriotic Party (NPP) in the December 7 general elections.
He said the Eastern and Ashanti Regions, areas that had been a waterloo for the ruling NDC government, would not come easy as the NDC works at the grassroots to split votes between the two most glamorous political parties in the country.

"We need to work very hard to either increase or consolidate our votes in the other eight regions so that when we are able to hit our 50-50 target in the Eastern Region and one million votes in the Ashanti Region, the NPP and Nana Addo will continue to linger in opposition," Mr Nketia told a large crowd of NDC supporters in Ashaiman, where he launched the constituency's campaign team and introduced the party's parliamentary candidate Ernest Norgbey.

The NDC General Secretary enumerated a couple of the infrastructural achievements of the Mahama-led administration that should be the campaign message of every NDC supporter.

"Our enviable campaign message is conspicuous in every part of the country but we need not be complacent to continue working hard to get the party the needed votes to retain us in government."

He explained the first term of President John Dramani Mahama was targeted at building the needed infrastructures and correcting all economic rough edges so that in his second term, he would invest in more job creation in all sectors of the economy.

Teasing the NPP, Asiedu Nketia said, "Nana Addo and the NPP said there was no need for the provision of infrastructure because that would not put food or money in our pockets…when they said they would build a dog meat factory in the north for export to Korea, will they not export their corned dog meat either by air or sea?
"And before they convey their product to the airport or seaport, won't they travel on a road? The NDC is constructing the roads and expanding our airports and seaports so that should they come to power in future, they can easily export their dog meat from their one district, one factory."

He said this year's election would be contested on issues and the comparison between the first term of the NPP under former President Kufuor and that of President Mahama-led NDC.

Asiedu Nketia urged the NDC in Ashaiman to keep faith in the party, explaining that development was a process.

Ernest Norgbey, the NDC parliamentary candidate, for his part, promised selfless leadership and service to the constituency when elected to the House of the legislature.

He told the crowd that the NDC's 85,000 votes for himself and Mahama was critical and achievable "but that will come with hard work and commitment."