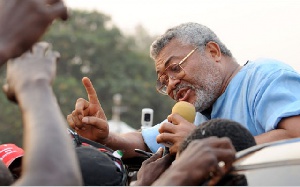 Ex-President Jerry John Rawlings has been challenged to stay away from lending support to the re-election efforts of President John Mahama as the 2016 elections approach.
The Member of Parliament for Nsawam-Adoagyiri, Frank Annoh-Dompreh, dared Ghana's longest-serving head of state as he addressed party supporters on Saturday October 22 in his constituency.

He called on Mr Rawlings to prove his statesmanship and stand by the principles of probity and accountability he espoused during the two decades he ruled the country by campaigning against the president and governing National Democratic Congress (NDC) flag bearer for the December 7 polls, John Mahama.

According to Mr Annoh-Dompreh, the former president's previous admission that some 60 per cent of President Mahama's appointees are corrupt is enough reason for him to stick to his famous principles and denounce the NDC candidate in the upcoming polls.
"I am reminding former President Rawlings of the principles of probity and accountability he drew on to order the execution of some corrupt persons [during his years as Ghana's military ruler]," he said.

"Today, the former president has admitted that 60 per cent of President Mahama's appointees are corrupt. Based on this, I challenge the former president to denounce NDC flag bearer John Mahama because of his corrupt appointees and, instead, campaign for Nana Akufo-Addo."