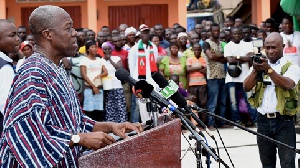 Tue, 1 Nov 2016 Source: Eric Boateng
Mr Kwesi Berkoe Amissah Arthur, the Vice President, has urged Ghanaians to vote against disruptive change in the upcoming December 7 general elections.
Addressing hundreds of National Democratic Congress supporters at Kumbungu as part of his four day tour of the Northern Region, the Vice President said there is no need changing a performing president like John Dramani Mahama.

He said such a change would be disruptive as it would take the country backwards.

He disclosed that President Mahama has invested heavily in infrastructure, particularly roads, schools, hospitals, and provision of electricity, among others.

Vice President Amissah Arthur said, with the solid foundation already in place, it is very imperative that President Mahama is given another term to build on the foundation and take Ghana to the promise land.

In the Northern Region for instance, he pledged the government's commitment to continue to expand its electrification project, construct more roads, schools and hospitals among many other social interventions.

He advised the electorates in the Kumbungu constituency not to repeat the mistake of 2013 bye elections where they voted for a Convention People's Party candidate to represent them in parliament after the NDC incumbent MP, Hon Mohammed Mumuni was appointed to head the African Caribbean Pacific countries in Brussels.
He said the NDC is being represented by Mr Ras Mubarak, an indigene of the area and development-oriented person, and therefore urged the electorate to vote for him.

"On December 7, when you go to the polls, vote for John Dramani Mahama as President and Ras Mubarak as your member of parliament," he said.

The Vice President said "the NDC is going into this elections with peace in our heart and development as our vision" and therefore urged NDC supporters to be peaceful during the elections.

For his part, Naa Iddrisu Abu, the Chief of Kumbungu, commended government for the unprecedented projects being carried out in the area.

He said "for the first time in 50 years, Kumbungu has seen tarred roads".
Source: Eric Boateng