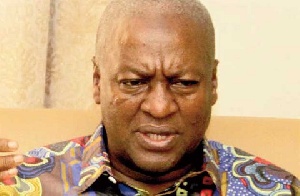 Former President John Mahama has criticised the double track system being implemented by government to cater for the numbers under the Free SHS policy.
According to Mr Mahama, the system makes no sense and must be reviewed.

"I believe that if Ghanaians come together we can come out with a workable timetable and schedule for implementing free SHS, because the double track system is not understandable.

We just finished vacation, children have been at home for almost three months, it's time to go to school and you say they should stay back at home for another forty-one days and let their friends go so they can also go after that time. It doesn't make sense and that is because our friends don't listen to advice," – he said.

He added that the Akufo-Addo government has failed Ghanaians and that a future government of the National Democratic Congress (NDC) will teach the current government what good governance is all about.

According to him, the expectations of Ghanaians have been dashed since President Akufo-Addo and his government have failed to fulfil the many campaign promises they made in the lead-up to the 2016 polls.
Speaking at the Agona East Constituency as part of his four-day tour of the Central Region where he is canvassing votes ahead of the NDC's flagbearer primaries, Mr Mahama said times are hard.

According to him, the governing New Patriotic Party will see better governance when the NDC returns to power in 2020.



He bemoaned that many projects started under his government such as the Community Day Senior High Schools, have been abandoned.

"The NPP will see the difference in governance when we return to power", Mr Mahama said.
"We began with development projects, social and economic infrastructure leads to development. For every nation to prosper, you need roads, hospitals and schools, we began these. We began constructing Community Day SHS to support the progressive free SHS but those schools have been abandoned by this government," he stated.



The Double Track System is similar to the semester mode of learning applicable in the universities at the SHS level. With this system, each track will be in school for specific days for each semester and go on vacation and come back for the second semester.

While the first track is in school, the second track will be on vacation and vice versa. The objectives of the Double-track School Calendar are to create room to accommodate increase in enrollment, reduce class sizes, increase contact hours and to increase the number of holidays.