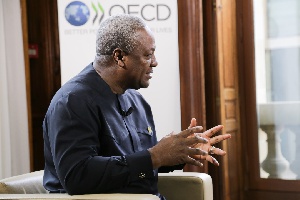 Former President John Dramani Mahama has said that his administration will scrap the double-track system being practiced in Senior High Schools (SHSs) if re-elected into office in 2020.
He made this assertion in a Facebook post on Monday stating: "We will abolish the current shift (double-track) system, re-introduce the more efficient three-terms per academic year programme, and bring back the emphasis on skills training, technical and vocational education to provide students with more options, as they go forward with their choices in diverse career and aptitude paths".

The Akufo-Addo led government introduced the double-track system in some selected second-cycle institutions in September 2018.

Under the double-track system – which was introduced to help accommodate the spike in student enrolment – the first batch of candidates placed on the GREEN TRACK, according to a statement signed by the Head, Public Relations Unit, Ghana Education Service, Cassandra Twum Ampofo, on Tuesday, 4 September 2018, resumed school on 11 September 2018, whereas the GOLD TRACK (second batch) will resume on 8 November 2018.

The first trackers will attend classes for a total period of 41 days while the second trackers are also expected to spend a period of 40 days in school.
According to Mr Mahama, who had indicated earlier that he will review the entire Free SHS programme if he returns to power, an NDC government will also "improve the Free SHS programme and make it better" than the current system introduced by the NPP.



Mr Mahama, who believes "education is key to our country's development" further pointed out that the "NDC will improve learning outcomes, teaching, teacher development and supervision across all schools".