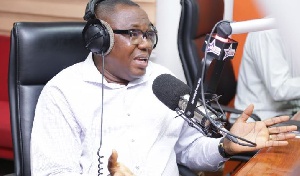 The Director of Elections for the opposition National Democratic Congress (NDC), Samuel Ofosu Ampofo, has described the double tracking system introduced by government to deal with infrastructure challenges as a lazy approach to solving the country`s educational problems.
"I ask myself this is a lazy approach to solving the problem, a problem that only required that within two years get the necessary infrastructure and prevent our children from going through this frustration because I do not know anywhere in the world where semester system is run for high schools," he told Accra-based 3Fm.

According to him, "semester systems are for Colleges, Universities and Polytechnic and so I ask myself in semester system people are examined, they are taught a particular subject, they are examined and when you pass you go through; you don't come back again".

He believes the government goofed in coming out with the double tracking system which in his view, will only worsen the educational plight of the country.
He said the Akufo-Addo-led government failed to properly position the Ghanaian educational system on it right footing

"You are running a system where they will examine at the end of the three years system through WAEC or whatever it is and you are running a semester system and the children are going to stay at home and then come back and go and we are talking about young children, so you ask yourself why do we want to experiment with this kids? what are we doing to our children, I am afraid for the future of our children" he said.

Meanwhile, government has selected some 400 out of the 696 public Senior High Schools to operate the double system.