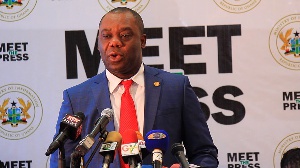 The controversial double-track system, which seeks to ease congestion in public senior high schools (SHSs), is expected to commence today, as first-year students report to their various schools.
DAILY GUIDE has gathered that students with Green Track are mandated to commence classes today.

However, those with Gold Track, according to the Education Ministry, are not due to start school today.

As such, they are to verify their status or undertake their registration process from now to November 8, 2018. Those with no track would resume as normal students.

Modalities

Education Minister, Dr Mathew Opoku-Prempeh, earlier said that only 400 out of the estimated 670 SHSs would run the double-track system for the 2018/2019 academic year, with the system expected to ease congestion in classrooms.

It is believed that over 8,000 teachers are being recruited to handle the sandwich classes so that teachers would not be deprived of their holidays.
Under the new system, teaching hours are due to increase from six hours per day to eight hours per day.

Teaching hours are expected to increase from 1,080 hours per year under the current trimester system to 1,134 hours per year under the proposed double-track system.


Already, a brilliant girl from Chiraa Methodist 'A' Junior High School (JHS) in the Brong Ahafo Region, Mercy Aboagyewaa Yeboah, has gained admission to Achimota Senior High School in Accra due to the implementation of the double-track system, which has excited the entire community.

According to reports, Chiraa went agog upon hearing the news that for the first time a pupil from such a community has been able to gain admission to one of Ghana's prestigious SHSs.

Most parents have already accepted the programme which would ensure equity in the academic system.



NDC's Opposition

The double-track system, which has generated heated political debate, shall run in all the categories A and B senior high schools in the country.
There have been attempts by the opposition National Democratic Congress (NDC) to 'pollute' the minds of parents and students about the importance of the policy which seeks to enable many more Ghanaian students to access secondary education under the Free SHS policy.

Ex-President John Mahama, it would be recalled, took to his Twitter account on Wednesday, July 25, 2018, to condemn the system, saying cynically that "introducing shift system for SHS? It doesn't help to continue to implement this all important Free SHS programme on an ad hoc basis."

The NDC has already directed its communication team to follow the arguments of the party's new kid on the block Sammy Gyamfi and Fred Agbenyo on the double-track system who have rubbished the programme.

No Vacation Classes

Deputy Education Minister, Dr Yaw Osei Adutwum, yesterday indicated that "it's not government's policy to organise vacation classes for students. It is the parents' duty and responsibility and government is not going to take that away from them."

Dr Adutwum believes the new system will offer students more instructional and contact hours with teachers.
He said the double-track system would also increase contact hours while allowing students to have more holidays to enable students prepare well for examination.