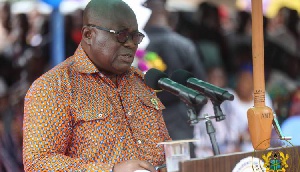 President Akufo-Addo is pushing plans forward for the implementation of the double-track system for the 2018/2019 academic year.
This system which will commence in September 2018 is aimed at ensuring quality education and reducing congestion that came alongside the Free SHS initiative.

The double-track system, which is similar to semester systems in the universities, splits the entire student body and staff into two tracks so that whilst one track is in school, the other track is on vacation.

Every semester will be 80 days for the two tracks and while one track is in school for 40 days the other track will be on vacation and vice versa.

Addressing chiefs and people in the Upper West regional capital, Wa, the President said the double-track policy would reduce class sizes as the surest way of improving quality education in the coming years.

"This multi-track double-intake organization that we are going to make from the beginning of this academic year to deal with this large population of students is to create room for all and reduce class sizes," he stated.
The President said that in 2-3 years time complaints made by teachers on the number of examination passes would be gone forever if everyone supports this dual intake system as a very efficient way of dealing with the large class size.



He also encouraged the community to take due advantage of the policy and send their children to school.

Under this system classes hours have been increased from 6 hours a day to 8 hours as the rotation system will depend on the year-round calendar being used.

While some teachers say they were not consulted before the decision was taken, other civil society groups and political parties have accused the government of rushing through with the policy.


However, some Ghanaians are expressing their satisfaction about the double-track system while others are lamenting that 40 days will not be enough to complete the overloaded SHS syllabus.

Former GES director, Charles Aheto Tsegah, has also expressed his consent that students who had to wait to start classes because they were not included in the first track might engage in other activities which might derail their education permanently.

"My main problem with this system is that it will not encourage seriousness among our children because once they do not go with the first batch, anything can happen to them," he added.


As these criticisms are ongoing, former General Secretary of the Christian Council of Ghana, Rev. Dr. Kwabena Opuni-Frimpong, has advised politicians and Ghanaians to stop politicking with the country's education and see the government's decision to adopt the proposed double-track system as a social intervention policy for which they must work collectively to ensure its success.