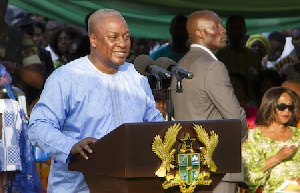 Thu, 6 Oct 2016 Source: Samuel Ablordeppey
With barely two months for Ghana to go to the pollls, President John Dramani Mahama has assured the Chiefs and people of Duayaw Nkwanta of the Tano North district of the Brong Ahafo region of an ultra modern fire service training school.
In his third day of his five day tour of the region where his wife the First Lady hails from, President Mahama said the Fire Service training school will benefit the sub region.

"People would come from every part of the West Africa sub region, Liberia, Togo, Nigeria, Burkina Faso et al to learn from the training school," the President said.
He indicated that the Interior ministry, Ghana fire service and allied agencies would be in the area in a few weeks to cut the sod for the commencement of work on the construction of the Fire Service Training School.

Speaking to an ecstatic crowd at the Chiefs palace, President Mahama who is seeking really election urged the people to vote massively for the National Democratic Congress on the upcoming Nov 7 general elections, to accelerate more viable projects in the area.
Source: Samuel Ablordeppey