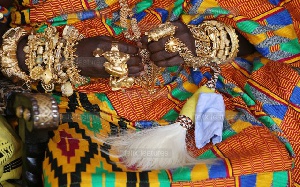 Thu, 3 Nov 2016 Source: Citizens Mail
The Paramount Chief of the Ntrubo Traditional area in the Nkwanta South District of the Volta region has commended government for the bold decision to initiate the Eastern corridor road project.
Nana Tedibo Kowura Odamba II was also full of praise to President John Mahama and the NDC government for completing one of the Community Day Senior High Schools for the area when he made a brief address during a courtesy call on him by Chief of Staff Julius Debrah. at Breweniase.

Nana Odamba II noted that under the current government several communities have seen economic benefit after they were connected to the national electricity grid.

He said the projects have curtailed the migration of the youth from Breweniase and surrounding towns to other districts.

He particularly referred to four CHIPS compounds which will give easy access to quality health care.

He however said as Oliver Twist the people in the area would appreciate the conversion of the Ntrobuman Secondary School into a boarding facility.
Addressing a durbar later Paramount Chief of a Hal's in the Nkwanta South district said while Chiefs don't do politics, they cannot be barred from acknowledging a working government who is changing the lives of majority in rural communities.

"Any lower Chief who must have endorsed an opposition candidate did so in his own capacity and not on behalf of the entire paramountcy," Nana Odamba II added.

He said President Mahama needs commendation and special support because the vilification by his opponents is becoming intolerable amidst deafening cheers from the people gathered.

In a brief response to some of their requests Chief of Staff assured that under the NDC green revolution captured in the 2016 manifesto, the Volta red enclave where farming is viable will benefit.

He also announced that the poor telecommunication network in the district will improve.
Deputy Communications Minister, Ato Sarpong said Nkwanta South has already been captured among over 100 communities under the ongoing GIFEC project.

He said besides the project which will stay before the end of the year, the network quality will also improve television broadcast as Ghana migrates to digital terrestrial TV.

Mr sarpong announced that TV Digi boxes will be provided to all deprived communities free of charge under a special initiative sponsored by President Mahama.
Source: Citizens Mail