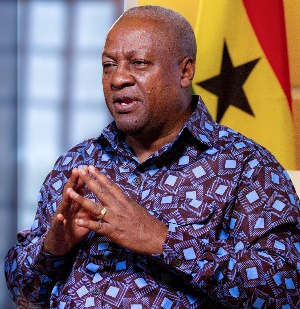 President John Mahama says he is determined to implement an Economic Transformation and Livelihood Empowerment Programme (ETLEP) in the first year of his second term, should he be re-elected, because the economic environment is getting better.
Mr Mahama is seeking re-election in this year's presidential elections. He led the National Democratic Congress (NDC)) to launch its 2016 campaign in Cape Coast on August 14 where he outlined some of the achievements of his government and the future prospects.

After the campaign launch, he campaigned in the Western Region and assured the people that he will develop the region.
He wrote on his official Facebook page that: "The environment is getting better and better, and the right climate for take-off is here. This is why in my second and final term starting January 2017, God-willing, I am determined to implement an Economic Transformation and Livelihood Empowerment Programme (ETLEP).This programme seeks to create more jobs in several sectors of the economy, with private sector involvement, and is anchored on value addition and diversification on the back of sustainable power supply."

He added: "The Economic Transformation and Livelihood Empowerment Programme will strengthen existing industries and pay particular attention to the entire agricultural value chain. Additionally, the Programme will provide more jobs for the youth and Ghanaians as a whole, improve disposable income and enhance their purchasing power."