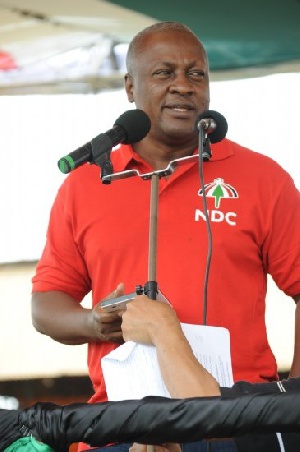 President John Dramani Mahama has pledged economic transformation in the country during his second term in office.
According to him, several policies put in place by his administration under the auspices of the National Democratic Congress will bear fruit during his second term and, thus, urged Ghanaians to keep faith with him and retain him in office in the December 7 polls.

Mr Mahama made this known when he joined thousands of Muslims to celebrate Eid ul-Adha at the Black Star Square in Accra on Monday September 12.

"Allah will want us to continue working hard to take us to the expected destination he has planned for us. Allah has blessed our nation Ghana and we will continue to move closer to fully realising the enormous potential that our country holds in order to achieve the most optimum development that she is capable of," he stated.
Talking about the progress of his government, Mr Mahama said: "Across all sectors, we are laying a solid foundation for the imminent take-off of what I call economic transformation, God-willing, in my second term in office."

He said: "We have successfully bolstered all sectors in readiness for this take-off. We are expanding our ports, we are building more airports to international standards, we are providing more buses to create easy transportation between our towns and villages, we are building new roads and rehabilitating several others all over the country, we are building factories, we are starting irrigation projects in readiness towards our agricultural revolution, we are connecting more communities to the electricity grid, we are providing clean drinking water to many communities, we are creating more opportunities for our young students who would have had their education truncated at the JHS level if it were not for the 123 Community Day Senior High Schools we were building..."