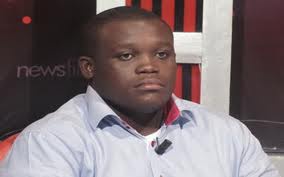 NDC parliamentary candidate-elect for Ningo-Prampram Samuel George has said Ghanaians do not like to hear the truth.
According to him, Ghanaians prefer the truth to be sugar-coated rather than told in plain words.

George defeated veteran politician E.T Mensah in the Ningo-Prampram parliamentary contest of the ruling National Democratic Congress on Sunday.

The controversial young politician won the polls with 4910 votes representing 63.5% as against the former Sports Minister E.T Mensah's 2831 representing 36.5% of total votes cast.

The internal poll was marred by chaos on Saturday following allegations of attacks by both camps, forcing the elections to be suspended.
Speaking to Nii Arday Clegg on the Morning Starr Tuesday, the presidential staffer said most people have had problems with him because of his confident nature.

" In Ghana, people misinterpret confidence for arrogance. People have had problems with me simply because I come across as confident, and people appear uncomfortable with it. I grew up in Nigeria and in Lagos where I was brought up, you needed to be tough to survive in such environment and that has been part of me.

"...Ghanaians don't like to hear the truth, they want the truth to be sugar-coated. Sometimes I feel the need to let down my confidence just so to make people comfortable around me," he said.