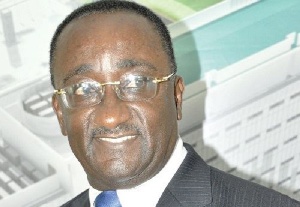 National best farmer Nana Kwaku Siaw has admonished the Agric minister-designate Dr Owusu Afriyie- Akoto to emulate the erstwhile Kufour's administration where fertilisers were fairly distributed to farmers across the country.
He remarked that cocoa spraying and distribution of fertilisers benefitted a majority of farmers which in turn increased production during former President Kufour's term.

The Chief Executive Officer (CEO) of Kumah Farms Complex Institute expressed hope that spraying of farms will not be done for selected few, urging Dr Afriyie-Akoto to see to it that pesticides are not diverted by officials who will play supervisory roles.

Speaking with host of Abusua Nkommo on Abusua FM, the Nkosuohene of Anwomaso expressed satisfaction that a farmer who understands the nitty-gritty of farming and challenges farmers go through in improving their yields has been chosen to head the ministry.

He bemoaned the wanton stealing of fertilisers meant for farmers, entreating the minister-designate to enforce strict laws to prevent future occurrence adding that such cases negatively affect production.

'We are happy about the nomination of the Agric Minister-designate, he is a farmer himself, his farms run from aquaculture to horticulture, he knows the challenges farmers go through in their farming activities. We have hopes that he will deliver, he should put measures in place to improve the production of cocoa.
Cocoa spraying was not done to favour just a few during the erstwhile Kufour's administration. Favouritism didn't show its ugly face during cocoa spraying, not only cronies and families of the government benefitted from the spraying, every farmer benefitted no matter their political affiliations. The spraying was done based on the acres of one's farm,' he recalled.

He anticipated that Dr Afriyie-Akoto if approved by Parliament, will work assiduously to increase cocoa production.

Nana Siaw called on government to put in place policies that will improve the Agric sector expressing hope that the one-district-one-factory policy will be implemented as promised.

This he said, farmers will be able to work throughout the year.