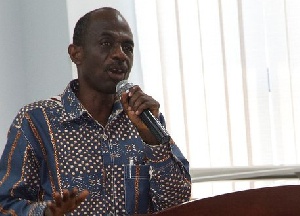 The vision of making Ghana an industrial hub cannot be achieved without good infrastructure, General Secretary of the governing National Democratic Congress (NDC) Johnson Asiedu Nketia has said.
For him, President John Dramani Mahama's infrastructure improvement initiative is laudable as that will form the basis upon which several other economic development projects can be built.

Mr Nketia, who was addressing party supporters on the second day of President Mahama's five-day tour at Anyinase in the Volta Region said: "If anyone wants to build a factory [as promised by the New Patriotic Party for every district], it will not run on hot water but electricity, so the government aims to expand access to electricity across the whole country."

According to him, infrastructure like roads, hospitals, and schools are very key to improving the conditions of citizens and entreated the electorate to "desist from voting for anyone who will say it is a waste of money to construct roads and hospitals".

He continued: "Such a person has no plans for you and the choice for you to vote for the NDC is very clear."
Meanwhile, President Mahama has said that in line with government's initiative to speed up work on various infrastructural projects, the contractor working on the Anyinase road in the Nkwanta North constituency of the region had been given a two-week ultimatum to complete it or have the contract cancelled.

"We are giving the contractor two weeks. If he does not do his work, we will terminate the contract and award it to another entity because we do not joke with our projects," Mr Mahama threatened on Tuesday, October 18.

He said the road was the only means by which farmers transported their goods. The delay of the construction, he lamented, was one of the reasons commercial vehicle operators charged exorbitant fares to convey farm produce to the market centres.

"If the road is completed, farmers will not have to spend much on transportation and they will be able to have more money in their pockets," he added.