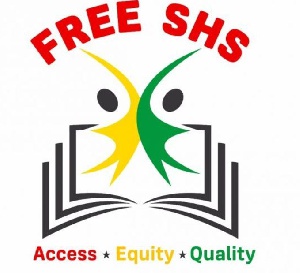 The National Union of Ghana Students, NUGS, has called on government to speedily solve challenges facing the implementation of the Free Senior High School policy.
In a resolution passed at its 51st Annual Delegates Congress which ended on Wednesday, the student body commended government for the initiative while warning of a possible failure of the policy if the challenges emerging are not tackled timely.

With admissions soaring in SHSs resulting in infrastructure and funding challenges, NUGS says it is about time government pays more attention to these issues as they have the potential to undermine an otherwise beneficial initiative.

Speaking on behalf of the Union, outgoing Press and Information Secretary Kenneth Sarpong said, "as a student body, we are always excited at any initiative that will lessen the financial burden on students and parents in extension".

He added: "We were one of the first to commend the government for the political will to roll out this initiative. But we are increasingly getting worried as we hear of widespread infrastructural and funding challenges which are impacting negatively on teaching and learning in our High Schools.

"We are aware that government has released only 20% of the budgetary allocation so far. That is woefully inadequate and we are calling on government to as a matter of urgency, release full funding to school Heads and also put in place long term measures to address issues of infrastructure in our High Schools."
In a related development, a student of the University of Ghana Medical School, Master Frank Amoakohene and student Journalist Emmanuel Kabu Nartey emerged as President and General Secretary respectively in an election conducted to usher in new executives for the 2017/2018 academic year.

The rest are Derrick Abotsi – Treasurer, Sylvester Kobby Marfo – Coordinating Secretary, Pearl Ossai – Women's Commissioner, Emmanuel Dogbatsey – Financial Controller, Eric Nana Agyemang – Press and Information Secretary, Solomon Ananpansah – Projects and Programs Secretary, David Mensah – Education and Democratization Secretary and Victor Elias Seshie – International Relations Secretary.

Speaking to the media after the declaration of results, President-Elect Frank Amoakohene expressed delight at the confidence reposed in him by delegates and promised to work hard to deliver on the mandate entrusted to him. He also sounded a note of caution to political party activists who are bent on dividing the Union along partisan lines. "I am very excited to have received such overwhelming endorsement from delegates across the country. In partnership with stakeholders and of course my colleague National Executives, we are going to roll out a number of initiatives intended to give NUGS a new identity and make it relevant to the promotion of quality and affordable education in Ghana in the coming year," he said.

"We have the strongest resolve to carry through every single promise we have made in this journey and we promise to serve you diligently. Let me also use this opportunity to send a strong signal to our political parties who think that dividing the students of Ghana along partisan lines is the only contribution they want to make to the student struggle. We don't have NPP student nor NDC student. We only have Ghanaian student and we shall resist every attempt to destroy our ranks with party politics."

The National Union of Ghana Students, the umbrella body for all student Unions in Ghana was established in the 1960s to champion the cause of Ghanaian students and also as a vehicle to mobilize the youth for national development.