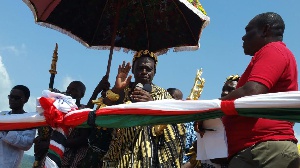 Fri, 4 Nov 2016 Source: Samuel Ablordeppey
As if disowning the flag bearer of the opposition New Patriotic Party (NPP) was not enough, the paramount chief of Challa traditional area in the Nkwanta district Nana Addo Kanewu has egged President John Dramani Mahama to continue with his good works and ignore his detractors.
"I ask you to forgive those who insult and attack you for they do not know what they are doing," Nana Addo said.

According to him, under the leadership a God fearing President, Ghana is revered and viewed as an icon of true democracy and oasis of peace in the African continent.

Addressing the Chief of Staff and his entourage at Brewaniase in the Nkwanta South district, Nana Addo Kanewu said "if some chief on his own volition or accord has said that he supports another presidential candidate, that's his own business; it is not the decision of the paramountcy and chiefs of Nkwanta South district."

The chief of staff is in the Volta region as a follow up to an earlier visit by his boss the President to whip up enthusiasm among party faithful and to also call on the Chiefs and people of the region to vote massively for President John Dramani Mahama in the upcoming Dec 7 general elections.

Paying glowing tribute to the achievements of the National Democratic Congress (NDC) under the able leadership of President Mahama, the chief said enough has been done to praise the government.
Recounting the developmental projects in his area, the revered paramount chief said every community have been connected to the national grid. Schools and libraries have been provided, road from Nkwanta to Dambai is under construction among others.

"They said chiefs should not dabble on politics, but nothing stops us from speaking of the good things we are seeing in our communities," Nana Addo stated.

He indicated that Ghana is doing better under the leadership of the amiable, affable, and accessible and God fearing President, Not stops us from saying "JM yidzi!"

He urged government to doing everything possible to ensure the peace and cohesion Ghana is enjoying is jealously protected and safeguarded, even before, during and after the 016 elections.

The Chief of Staff Prof Kwamena Ahwoi, Madam Cecelia Johnson, Anita Desoso, Emelia Arthur, ambassador Sylvanus Tamakloe among others as members of the entourage.
Source: Samuel Ablordeppey