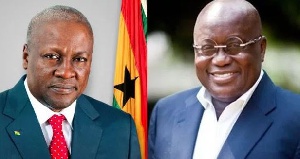 Former President John Dramani Mahama has taken another swipe at President Nana Akufo-Addo describing him as a conceited non-listening leader.
The former President's displeasure against President Akufo-Addo was about what he calls the improper implementation of what has been described as the single largest social intervention policy in the history of Ghana, Free SHS.

According to the immediate past President, if re-elected the Free SHS policy will be re-considered before it is implemented

He made this known while addressing party delegates in the Cape Coast North Constituency as part of his regional tour seeking for a second term torchbearer of the National Democratic Congress, NDC.

Mr. Mahama said the policy has not been implemented properly hence his administration if given the second nod at the 2020 polls will have an elaborate consultation with stakeholders for a proper implementation of the policy.

"If re-elected we will come together and decide on the proper implementation of free SHS. We've done it before with GETFund after massive consultation. I believe that if Ghanaians come together, we can come out with a workable timetable or schedule for Free SHS," he said.

He added that a proper timetable would be drawn after a national consultation on the policy for execution.
According to him, the current implementation of the policy coupled with the double track system does not make any practical sense.

"That double track doesn't make sense. We just finished vacation and students have been home for nearly three months. It's time to go school and you say they should be at home for 41 days more, for the first batch. That's because the NPP doesn't listen to advise", he said.

Meanwhile the implementation of the Free Senior High School policy has saved parents of beneficiary students thousands of Ghana cedis.

Vice President Dr. Bawumia said this while speaking at the 4th National Policy Summit at Tamale on Monday 24th September 2018.

"Apart from building a strong human capital for the future, there are immediate cash benefits to the parents. In practical terms the parent of a first year Day SHS student is saving GHC 1,075.41. For a parent with a Day TVET student the saving is GHS1,175.41.

For a parent with a boarding SHS student, you save GHS2,015.22, while a parent with a boarding TVET student saves GHS 2,115.22," Vice President Bawumia said.