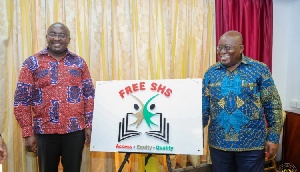 Even though the introduction of the Free Senior Secondary High School policy (free SHS) by the governing New Patriotic Party (NPP) has been hailed, Mahdi Jibril, the Deputy National Organizer of the opposition National Democratic Congress (NDC) has given a different description of the policy.
He said anything free cannot be properly managed hence the teething challenges confronting the policy at the early stages.

Mahdi Jibril, who was discussing issues about the ten-month reign of Nana Addo's government on the 'Epa Hoa Daben' show on Accra-based Happy FM observed that the current problems faced by the policy were envisaged.

"You see what is happening in the educational front leading to the sacking of some teachers who spoke about the challenges that popped up during the introduction of the policy across the country? I am telling you that anything that is rolled out on the basis freebies will never last he posited"

The Free SHS education has been one of the top priorities of the ruling New Patriotic party (NPP) government as it was a major campaign tool prior to 2008, 2012 and the 2016 elections respectively.
The NPP after winning the 2016 general elections said it is determined to roll out the pogramme that seeks to give free Senior High School education to about 400, 000 students across the country.



However, some individuals and groups both within and outside the party have warned the government to make better preparations to ensure its sustainability. A former defense minister, Dr Kwame Addo Kufour, who is also a staunch member of the party earlier this year warned.