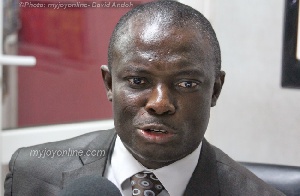 New Patriotic Party (NPP) MP on Parliament's Finance Committee says the NPP government will unveil a comprehensive financing plan covering its much-talked-about free Senior High School (SHS) policy, two weeks time.
In terms of the financing of its flagship programme(free SHS), Mr Kwarteng said that would be communicated to Ghanaians in its 2017 budget statement billed to be read in early March.

Contrary to what has been put out in the public domain by Senior minister, Yaw Osafo Maafo, the Obuasi West Member of Parliament indicated that although Mr. Osafo Maafo was not emphatic on using the Heritage Fund to meet that development need of the country, the Akufo-Addo-led administration has myriads of resources in its envelope to fund the free SHS.

"Using the Heritage Fund is not an option, because even if we decide to use it we may have to tweak the existing regulation to have our way with that. Secondly, we'll have to understand that the resource in the Heritage Fund is a minute fragment of what will cost us to implement the policy. It will then be required that we use other means to support the programme because the Heritage fund is insufficient," he told Fiifi Banson on Anopa Kasapa on Kasapa 102.5 FM.

The Senior Minister Yaw Osafo Maafo's hint of government intention to use the Ghana Heritage Fund to finance the free SHS policy which is starting in the 2017/2018 academic year, sparked public outcry, with many describing it as a lazy man's approach to solving the socio-economic needs of Ghanaians.
Some civil societies organisation believe the purpose of the Fund would be defeated if government decides to depend on the Fund for the free SHS policy.

Commenting on the brouhaha over the funding aspect of the flagship programme(free SHS) of the government, the Obuasi West legislator asked the public to exercise restraint as government will be clear on the financing of the programme in some two weeks time when the Finance Minister presents the 2017 Budget Statement.

"I think two weeks we will all be clear on how government will fund the programme. But I can assure you we won't tap into the Heritage Fund to finance the programme" he noted.