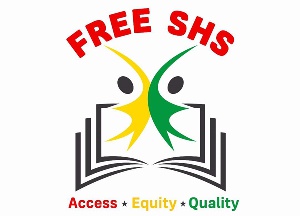 Wed, 27 Sep 2017 Source: Daniel Kaku
The District Chief Executive (DCE) of Prestea Huni-Valley District in the Western Region, Hon Mozart Kwaku Owuh has paid an unannounced visit to Senior High Schools in the district to assess the level of enrollment following the commencement of government's Free SHS education program.
The Free SHS program was officially launched by President Nana Addo Dankwa Akufo-Addo on Tuesday September 12, 2017, to enroll over 400,000 first year students for the 2017/2018 academic year.

The implementation of the controversial free SHS policy was characterized by some challenges such as inadequate dormitories, dining halls, classrooms and alleged unapproved fees been charged by some heads of the schools from parents since it started.

In view of these, Hon Mozart Kwaku, DCE for Prestea Huni-Valley and his team visited schools in the district on September 26, 2017 to assess some of the challenges the schools and students are facing.

He commended the headmistress of Prestea Senior High Technical School, Madam Kay Oppong Ankomah for been able to manage situation regardless of challenges with the limited facilities at the school and enrolled over 200 first year students.
He also assured the school authorities that by the end of the year, the Assembly will embark on infrastructure project to help accommodate students and to help promote the government's agenda of ensuring quality education.

On the part of the school, Madam Kay Oppong Ankomah revealed that, due to the population of the first year students, the school has converted two big classrooms into dormitories which have helped in accommodating large number of students.

She said, "We will be looking forward to see the Assembly complete their projects" so that issues of accommodation can be resolved.

She also appealed to government to build more structures for the school as even the school's dining hall is unable to accommodate all the students at a time, a situation that has forced the school to make student eat in batches.
Source: Daniel Kaku