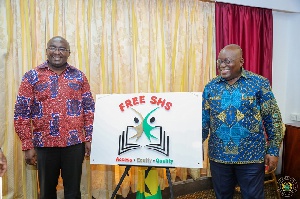 The Conference of Heads of Private Second Cycle Schools (CHOPSS), has urged government to expand the coverage of the free secondary education policy to include private schools to save them from possible collapse.
At a press conference today [Wednesday], expressed its disappointment with the effect the policy is having on admissions in private schools, with reports that enrollment of first-years has dropped significantly. National Secretary of CHOPSS, Joseph Dzamesi, said the free SHS policy has rendered them jobless.

"What is to happen to the millions of Ghana cedis that have been invested into our schools. What is to happen to 10,000 plus Ghanaian workers who are employed in our schools," he questioned.

"Our schools should be tagged private and the parents should be informed that when a private school is selected, the students would have to pay the school fees," Mr. Dzamesi stated. "With this, a student who may not be happy with his or her placement or a student who is not able to find a school that he or she likes may select a private school on the website and go to that private school."

They also suggested that government could give beneficiaries the money for their education so they will choose between a private and public.
"We, therefore suggest that the amount of money earmarked per student to attend senior high school be granted to the student, whether he or she attends a public or private senior high school… if a parent needs to add GHc200 to it in order to afford the total fees in a private senior high school then that becomes the option of the parents."