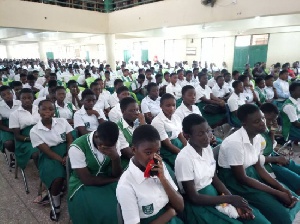 The Ghana Health Service (GHS) and the Ghana Education Service (GES) have signed a Memorandum of Understanding (MOU) to provide free medical screening services to candidates who will enter into the Senior High School (SHS) this year.
The event took place at the GES headquarters in Accra on Friday, September 7, 2018.

The Director General of the Ghana Health Service, Dr Anthony Nsiah-Asare and the Director General of the Ghana Education Service, Professor Kwasi Opoku-Amankwa signed the MoU on behalf of the GHS and GES respectively.

In an interview with Prof. Opoku-Amankwaa, he disclosed that the MoU seeks to formalize the annual School Health Screening.

He said over 490,000 newly admitted free SHS students will be screened this year.

The package of services includes medical history and general physical examination, hearing assessment, oral health screening, STI screening, TB screening, Nutrition assessment, laboratory examination (full blood count), and urinalysis.

Disease Surveillance, Sanitation, Health Education and other health-related activities will also be done.
A valid NHIS card and weighing card to assess immunization status will be required to facilitate smooth implementation of the process.

"The School Health Screening will help the country to compile health records of its students to influence policy decisions. Management of the health facilities would be engaged to give priority to school children who report to the hospital for healthcare services," he assured.

All schools will be aligned to a health facility to ensure the schools have functional sick bays. Complicated medical conditions detected are referred to the hospital for further management.

Last academic year, the Ghana Health Service in collaboration with the Ghana Education Service screened 294,256 free SHS students.

Pupils entering basic level for the first time (Kindergarten and primary school) this academic year 2017/2018, shall be screened in the next round of the health screening exercise.

Present at the event were Director of Family Health, Dr Patrick Aboagye, Head of Public Relations, GES, Cassandra Twum-Ampofo and the Public Relations Team of the GHS.