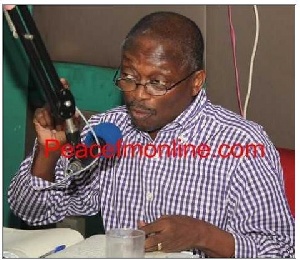 Veteran Journalist, Abdul Malik Kweku Baako has called on critics of President Nana Akufo-Addo's free SHS policy to redirect their energies and support the initiative.
Speaking on Peace FM's 'Kokrokoo', Kweku Baako commended the President and his government for their commitment to implement the policy.

In his attempt to silence the naysayers of the project, Mr. Baako explained that the policy is feasible because the money to be used to roll it out has already been stated by the government.

Alluding to ruling NPP's Manifesto, Mr. Baako read the government's readiness to take up the cost of the project and provide access for all SHS students in the country.

According to him, the current administration indicated that it would use the oil revenues to facilitate and implement the free SHS policy.

He therefore wondered why the opposition NDC would cast doubts over government's ability to develop the policy.
In his view, the opposition party has refused to recognize the feasibility of the policy because when President Akufo-Addo was detailing the nation on how his government would implement the policy, the NDC "pretended they were speaking Chinese. So you didn't hear, you didn't see and you didn't feel, and that's why they lost because the people were listening. The people were sure. They were listening. They were hearing figures. They were hearing the projections. They were hearing the visions and you were not or you were pretending you were not. You didn't hear anything and that's why you lost."

Mr. Baako welcomed the President's declaration that the policy would commence in September this year stating it will enhance the progress of the nation.

"You can have all the natural resources. (Kwami) if you have a brainless and uneducated population, forget it . . . The man (President Nana Akufo-Addo) is only seeking to operationalize the pledges he made in the course of the campaign. If you go to their Manifesto, they've captured some there," he said.

He however believed there will be challenges as the government rolls out the programme, saying "I don't expect a smooth sailing process. It's never been so anywhere, especially such a far reaching policy and programme that will accompany this policy. In rolling it out (Kwami), we will have challenges" but advised the critics to their minds and energies in ensuring "we will let this thing succeed".