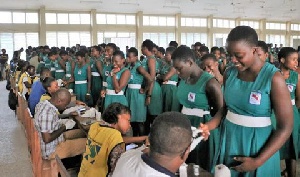 A total of 67,382 candidates who recently completed the Basic Education Certificate Examination could not be placed into any of the Senior High Schools of their choice, the Ghana Education Service (GES) has announced.
The situation, kasapafmonline.com understands, is due to poor results obtained by the affected candidates.

But there is hope for these candidates as the GES has offered these candidates an alternative for placement into some Senior High Schools with vacancies.

These unplaced candidates are to do a self-placement by logging onto www.cssps.gov.gh and proceed to the Self-Placement module to complete a form and submit it.
A total of 423,134 out of the 490,514 candidates who qualified to be placed were automatically placed with any of their choices of the Senior High Schools with the remaining candidates being directed to do a self-placement.

A statement signed by the Head, Public Relations Unit, Ghana Education Service, Cassandra Twum Ampofo, and released in Accra, Tuesday, September 4, 2018, said 521,710 registered candidates were available for placement but only 490,514 qualified to be placed.

According to the GES, candidates placed on the GREEN TRACK will resume on September 11, 2018 whereas the GOLD TRACK will resume on November 8, 2018.