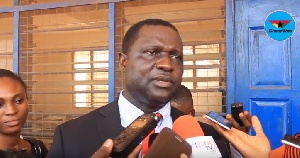 Deputy Minister of Education, Dr Yaw Osei Adutwum, has said Finance Minister Ken Ofori-Atta, spoke as a parent when he suggested that the Free Senior High School policy must be implemented discriminatorily so that those who have the means are made to pay for their children's second-cycle education.
According to him, what Mr Ofori-Atta said is not a policy statement, thus, his personal opinion.

Speaking in an interview on Accra-based Citi TV, Mr Ofori-Atta said: "I don't think it [Free SHS] is something any of us can compromise on", adding that: "It may be that there have to be changes in the way in which we are administering it".

"I can't take my child to Achimota or Odorgonno and then leave him or her and drive away and Ken Ofori-Atta not pay anything while I can pay for 10 people. … You need to get the data to then be discriminatory in how and who pays and who doesn't pay", he said.

Reacting to this on the Executive Breakfast Show (EBS) on Class91.3FM on Wednesday, 25 July 2018, Dr Adutwum said: "I didn't watch the whole interview, I just saw a quote from him. The quote I saw was a quote of a Finance Minister speaking as a parent and speaking as a citizen and speaking as a Finance Minister at the same time, so you really have to dissect it.

"When he said I can pay for 10, do we say there is a policy that says if you are like Ken Ofori-Atta you must pay for 10? So, he's raising an interesting concern, he's talking about something that needs to be done and I appreciate the fact that he's transparent enough to talk about it, talking about something is great, it doesn't mean it will lead to the approval of Cabinet..." the Deputy Minister in charge of the implementation of the policy said.


In Dr Adutwum's view, Mr Ofori-Atta was only sharing a personal opinion on the subject and, therefore, his suggestion was different from policy prescription.

According to him, just as exists in the American system, if some rich parents want to pay for their wards education, then the country's tax regime must be re-looked at.

If Ghana wants to go the Ofori-Atta way, then, he said: "Find a better means testing mechanism because it's done around the world. If you go to the U.S. where I lived for 26 years and I'm familiar with, high school is free for every parent whether you are a billionaire or millionaire, however, when you get to the universities, it is funded based on means testing.

"You may sit next to a student with the same test score, same grades, he'll go to the university and pay nothing, he'll get government grant and you'll pay for every penny. Why? Because the country requires everybody to file taxes.
"So, when you get admission to school, the first thing they ask is; bring your parents income tax filing for the last three years. Once you bring that transcript, then they look at need-based financing for you and then they also look at merits, scholarships and other things. So, if you're smart you get scholarship and then if you're poor, you get need-based financing. So, we have some people who go to the university and pay nothing and some will pay $200,000 to complete their education because they happen to come from different homes."

He noted that implementing such a policy in Ghana will be a daunting task because "it is difficult to know people's income and that is a challenge."