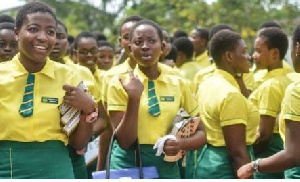 Teachers must put in their best efforts during school hours especially as the Free Senior High School (SHS) programme has started, Bishop Charles Agyinasare has said.
"If you are a teacher, you won't do a shoddy job in the daytime.

"And now we have free SHS and for some teachers, it's now that they are going to do private classes.

"But if you are a teacher, you are not going to do that; you won't put your efforts only in the afternoon when classes have closed and in the daytime, you come anyhow.

"If you are a teacher, you prepare your lesson notes and put your best foot forward when you teach your children," the Vice-Chancellor of Perez University College (PUC) told his congregation on Sunday, 24 September when he taught them about the need for Christians to have "clean hands" so as to be righteous before God.

The Free SHS started in September this year. It is the flagship programme of the Akufo-Addo government. It is aimed at ensuring that financial difficulties do not stop students from accessing senior high school.
President Nana Akufo-Addo on Thursday 21, September told the United Nations in New York during the General Assembly meeting that enrolment into senior high schools in Ghana increased by 90,000 this year as a result of the implementation of the Free SHS programme.

"We've just started the free Senior High School programme which aims to guarantee secondary education to all of Ghana's children. This programme will ensure that all our children will be educated to at least secondary level and money or the lack of it will no longer mean a denial of education.

"This has already led to an increase of over 90,000 children who have entered secondary school this academic year who otherwise would have dropped out at this stage.

"SDG 4which aims at ensuring inclusive and equitable quality education and promoting lifelong learning opportunities for all will be within our reach by the target date," Mr Akufo-Addo said.