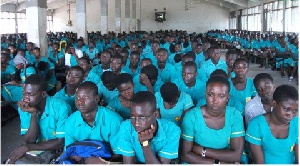 The Free Senior High School (SHS) policy promised by the governing New Patriotic Party (NPP) government cannot be hinged on the country's oil revenue, ), Kwame Jantuah, Vice Chairman of the Public Interest Accountability Committee (PIAC), has said.
"I don't think we should rely on oil revenue," he told Emefa Apawu on Class FM's 505 news programme, even though he admitted that the idea of free senior high school education was not entirely bad.

He said on Monday, February 13: "Where oil revenue is concerned, we (Ghana) are not in control [due to world prices]. It jumps up and down, so if you have budgeted and all of a sudden something happens in the world and oil revenue drops, how do you fund it? Yes, I do agree that education is the key…but we need to have a critical debate on how to fund it."

He was reacting to the announcement by President Nana Akufo-Addo that the Free SHS programme will start in September. While making the statement, the president indicated that the best way to use mineral and oil resources was for the education of citizens.

He outlined various components of fees that would be absorbed in order to make if free for SHS students during a speech on Saturday, February 11, at Okuapeman School.

However, the energy expert believed that a comprehensive discussion was needed on the funding and plans the president said he had for the educational sector.
"I give them the benefit of the doubt because I don't know what the president has which makes him believe that it will work. I just want to see that it works and I need to see the plans to analyse and get to the nitty-gritties of how it will work," he added.

He disclosed that the oil revenue was being used for different things so "which part or percentage of the oil revenue is going to fund education?"

Mr Jantuah said he would want government to take a holistic decision on education and not focus on only SHS because basic school is not free even though there is a vision for a Free Compulsory Universal Basic Education (FCUBE), insisting that to "educate a child, it starts from infancy".

She urged government to be "open with us and tell us about their well thought-out plan and where the revenue will come from so we can all analyse and help. We are building a nation and not a political party and so for me I'll be grateful if the Education Minister can come out and say, 'this is what the president has said, these are the points we are looking out for'. The president hinted at remuneration and accommodation for teachers. Are we going to have all that from the oil revenue?" he asked.

He cautioned government to be meticulous in order to ensure that whatever plan rolled out to fund education would be sustainable.