General News Tue, 12 Sep 2017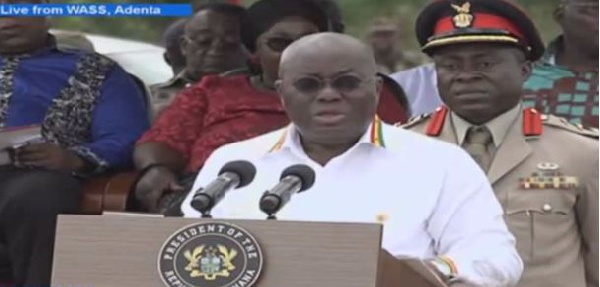 President Nana Akufo-Addo says even though there may be challenges in the implementation of the free senior high school policy, he is determined to make it succeed at all cost.
The President made the remark Tuesday, September 12, 2017, when he launched the much-anticipated education policy on the premises of the West Africa Senior School, Adentan, Accra.

Parents of over 400,000 students entering senior high school for the first time after qualifying from the junior high level, have been relieved of the burden of funding the education of their children at the senior high level as government rolls out the programme this academic year.

"We may falter, but by the Grace of the almighty God we shall not fall," Nana Akufo-Addo told the gathering of students, tutors and top government officials.

He urged Ghanaians to embrace the policy and support it to succeed, maintaining that: "The policy is not about the NPP or the NDC; the beneficiaries will not only be NPP sympathisers; they will be Ghanaians."

"This is about Ghana and how to build a progressive and prosperous nation," he stated.
The president said the introduction of the policy has seen a drastic reduction in the number of graduates whose education is terminated at the junior high school level from over 100,000 to just about 30,000.

The policy also makes room for these candidates to re-sit their Basic Education Certificate Examination (BECE) next year and benefit from free SHS if they obtain good grades.

The president, therefore, challenged beneficiaries to seize the opportunity of free SHS and make the best out it because "Ghana needs your skills and talents and I know you will not fail us".

The first batch of beneficiaries has begun reporting to their various schools to begin the processes for their enrollment.

Despite some challenges anticipated in the implementation of the policy, parents and some heads of senior high schools have welcomed the move.
Some schools say they are yet to receive funds that will support the implementation of the programme, amid claims some headmasters are charging unapproved fees.

Some parents complain the computerised school placement system has failed to select their children. Others say their children have been sent to day schools at locations far away from their residence.

Click photos for more