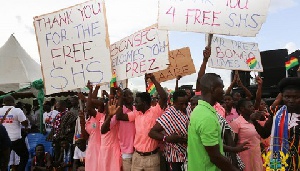 The Ghana National Association of Teachers (GNAT) has backed the implementation of the "controversial" double tracking system aimed at accommodating the increase in enrollment under the free SHS programme.
Based on last year's enrollment, the government has projected enrollment figures for 2018 to stand at 472,730 against available seats of 290, 737 leaving a gap of 181, 993.

In order to accommodate the expected number of enrollment, the government has resolved to introduce a system called double tracking which will be similar to the semester mode of learning applicable in the universities and is expected to last for seven years.

Former President John Dramani Mahama and a litany of think tanks including IMANI Africa and ISODEC slammed the yet-to-be-introduced system as needless.

ISODEC, for instance, attributed lack of due diligence on the part of government before implementing the fee-free education policy as the cause of the current crisis the nation is experiencing at the SHS level.


But speaking to Starr News, Deputy Education Minister Dr Adutwum explained that the system will last for only seven years, to allow the government to address the accommodation challenges in the various SHSs after which the schools will revert to the normal education calendar.

"This is a stop-gap measure, even in all countries that have used it," Dr Adutwum told Ultimate FM's, Isaac Bediako Justice.

Also, the system, according to the Education Ministry, will offer students more instructional and contact hours with teachers.

Commenting on the yet-to-be-implemented system, the General Secretary of GNAT David Acheampong observed that the Association has no qualms with its introduction, however, the government will have to consider remunerating teachers to correspondent with the increased contact hours.


"For us we don't have a problem with it so far as we are going to put some students back into the classrooms because looking at the figures that are being churned out this year over 100,000 of our children may not go to Senior Secondary School if such a policy is not adopted," Mr Acheampong told Francis Abban on Morning Starr, Monday July 30.

However, he added that "our major concern is that is it [double tracking system] going to bring more work to the teacher? If it is going to bring more work on the teacher what is the compensation in there for the teacher? That's basically what we are discussing."