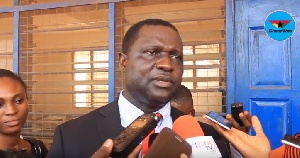 Deputy Education Minister, Dr Yaw Adutwum, has said any staff of the Computerised School Selection & Placement System (CSSPS) who accepts bribe to place unqualified students or change their placement in any way, will be handed over to the law enforcement agencies for prosecution – if caught.
Anyone caught "will never work with the CSSPS ever again", Dr Adutwum warned.

His warning comes amidst a plethora of challenges facing the placement of some students into senior high schools.

While some students are yet to be placed in senior high schools, others are clamouring for a change in school since they come from far places. Others have also been made day students instead of being boarders although they live faraway.

Other concerns are that despite obtaining good grades, some students were not placed in their preferred school of choice.

In the face of these challenges, there are reports that some staff of the CSSPS are cashing in on the challenges by taking bribes to manipulate the system for some parents and their children.


Reacting to this claim on the Executive Breakfast Show (EBS) on Wednesday, 12 September 2018, Dr Adutwum said: "If we get hold of anyone, of course we'll deal with him. We are working so hard, breaking our backs for the system to work, and, so, if you want to accept money, go ahead and accept money, when we get hold of you, we'll hand you over to the law enforcement agencies and you'll never work at the CSSPS again…"



The first batch of students for the double-track system under the Green Track have been reporting to school since Monday, while the second batch of students, who form the Gold Track, will report to school on November 8, 2018.