Fri, 6 Oct 2017 Source: Flagstaff House Communications
Hundreds of residents, first year students from several senior high schools, technical and vocational institutions from the three Northern Regions lined up along the principal streets of the Regions to express their appreciation to the President of the Republic, Nana Addo Dankwa Akufo-Addo, for the implementation of Free Senior High School policy.
Holding aloft placards with inscriptions such as "We are beneficiaries of Free SHS", "Thank you, Mr. President", "President Akufo-Addo, the visionary leader", "Free SHS is a blessing to Ghanaians", "Ghana is working again", "In 9 months, promises fulfilled", "We need NPP in power for 50 years", 'We now have a competent President", amongst others, the students were ecstatic, and literally held the convoy of the President hostage, as he made his way into the Northern Regions.

Earlier on Wednesday, 4th October, 2017, upon his entry into Bolgatanga, several hundreds of Free SHS beneficiaries from the Bolgatanga Girls Senior High School gave the President a rousing welcome into the Upper East Region.




Again, upon his arrival in the Northern Region, and on his way to Nalerigu to pay a courtesy call on the Nayiri, Naa Bohogu Abdulai Mahami Sheriga, students from the Walewale Vocational Institute, Walewale Secondary Technical School, Gambaga Senior High School, Nalerigu Senior High School, lined up along the streets of Walewale, Nalerigu and Gambaga to welcome the President.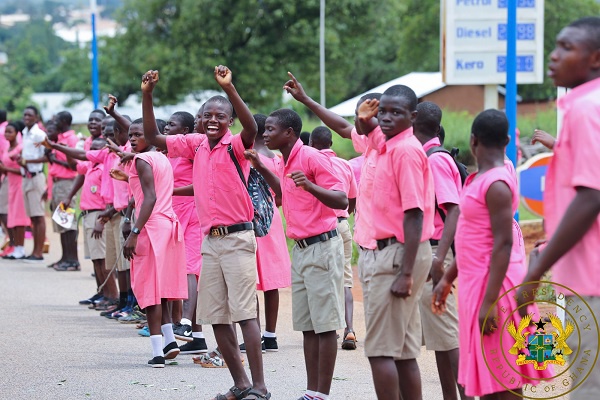 The Nayiri in his welcome address to President Akufo-Addo on Friday, 6th October, 2017, summed up the outpouring of joy by students and parents who met President.

"I wish to express my appreciation and gratitude for the many good things and support you have done to benefit my people and the country at large. The government under your able leadership needs to be commended for the numerous pro-poor policies rolled out within the few months into office.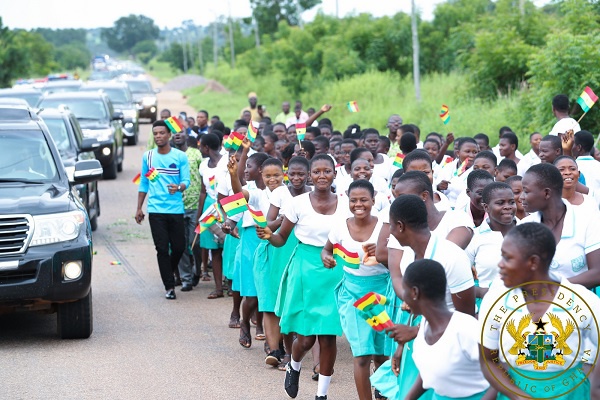 Policies such as the Programme for Planting for Food and Jobs, free fertilizer, Free SHS, restoration of teacher and nursing trainee allowances will help reduce poverty in Ghana," the Nayiri said.

It will be recalled that on Tuesday, 12th September, 2017, President Akufo-Addo, at the West Africa Senior High School, launched the Free Senior High School policy, in fulfilment of the New Patriotic Party Manifesto pledge of 2016.
Parents and students, as a result of the Free SHS policy, no longer pay tuition fees, admission fees, library fees, science centre fees, computer lab fees, examination fees and utility fees. Additionally there are free textbooks, free boarding and free meals, and day students get a meal at school for free.

The Policy also covers agricultural, vocational and technical institutions at the high school level. Government has also outlined a well-thought out plan that involves the building of new public Senior High Schools and cluster public Senior High Schools.

En route to Damongo first year students from the Pong Tamale Senior High School and Savelugu Senior High School also came out in their numbers to welcome President Akufo-Addo.
Source: Flagstaff House Communications