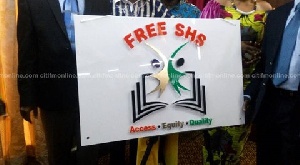 The Chief of Bonwire in the Ejisu municipality of the Ashanti Region, Nana Bobie Ansah II, has commended the government of President Nana Addo Dankwa Akufo-Addo for implementing the free senior high school (SHS) programme.
The traditional leader said if Ghana will develop, then the education of her children must be prioritised by the central authority, therefore, the implementation of the progarmme is good.

Nana Bobie was speaking at the launch of Asante Bonwire Kente festival at Bonwire under the auspices of the Bonwire stool in collaboration with the Ghana Tourism Authority and Ejisu Municipal Assembly.

He said: "I commend the government for implementing the free SHS porgramme because of its impact on the country and our children.

"If we will realise the desired development that we need, then we need to educate our children or make education accessible to all irrespective of their financial status."

Touching on the roads in his area, Nana Bobie pleaded with the government to fix them.
He said the bad roads are affecting economic activity in the area.

Bonwire, well-known as the hub of the Kente cloth, attracts a lot of tourists who find it difficult navigating the town and its adjoining communities as a result of the bad roads.

The roads that lead to the community have developed potholes and gullies. The situation, according to the chief, discourages tourists to the town.

Nana Bobie said his checks indicate that the roads have been awarded on contract and has seen some road construction equipment moved to the town.

Nana Bobie commended the government for taking steps to fix the road but said it must not be a "one-day wonder".