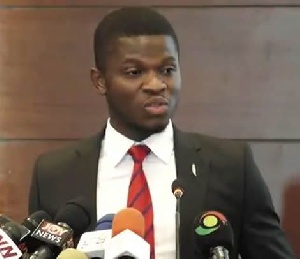 A member of the National Democratic Congress [NDC] communication team, Sammy Gyamfi has accused President Nana Addo Dankwa Akufo-Addo and his government of creating the problems facing the free Senior High School [SHS].
He noted that he does not oppose the fact that every new policy implementation encounter challenges, but he as well believes that this "free SHS challenges can perfectly be dealt with and avoided".

Sammy Gyamfi pointed out that future calculations, proper planning and stakeholder consultations were the most excellent tools this government should have relied on to perfect the policy.

He told UTV's 'Adekye Nsroma' programme that the NPP government intentionally ignored all advices and decided to do it their own way just to fulfill their campaign promise.
"President Akufo-Addo and his government think they alone have knowledge and proper skills in solving every problem, therefore they don't need any experts' advice when implementing the free SHS. We called them to order and they never listened," he said.

The Aspiring National Communications Officer of the NDC furiously indicated that "I always say and will continue to say that the brain behind free SHS is perfect, but its implementation has been poorly managed, hence the difficulties".