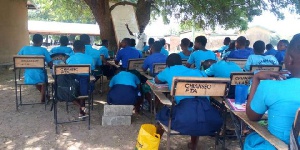 President Nana Addo Dankwa Akufo-Addo has stated that challenges confronting the free SHS policy will be speedily addressed by his government.
According to him, challenges such as inadequate number of classrooms, dormitories and science labs will be tackled by his government to ensure that the policy continues for the benefit of the Ghanaian youth.

He added that the challenges are to be expected as everything new has problems during the initial stages.

The president also dismissed claims that the introduction of the free SHS policy was motivated by political gains.
According to him, the policy is to ensure that every Ghanaian child gets the opportunity to further their education beyond Junior High School.

Addressing the Bawku Naba Asigri Abugrago II and a host of other chiefs from the Bawku traditional area when they called on him at the Flagstaff House, Mr. Akufo-Addo said the focus of the free SHS policy should be a good reason for the chiefs and traditional leadership of Ghana to give it their full support for it to succeed.

In a speech read on his behalf, the Bawku Naba Asigri Abugrago II pledged his support for the Free SHS Programme and assured the President that traditional leaders of Bawku will offer their constant support to the policy.