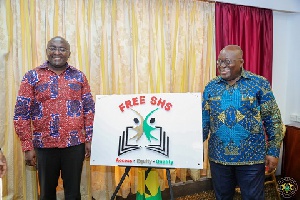 A Deputy Minister for Information, Nana Ama Dokuaa Asiamah Agyei has revealed that the Free Senior high policy which was implemented in September last year is costing the current government a lot of money.
The policy which is in line with the government's resolve to make public Senior High Schools(SHS) accessible and free to ease the burden on parents who cannot afford School fees for their wards, was rolled out last year for close to 400,000 beneficiaries.

According to the Deputy Minister, the purpose of the implementation of free SHS policy which was a campaign promise by the governing New Patriotic Party (NPP) led by President Nana Addo Dankwa Akufo Addo to ensure that everyone accesses secondary education at no cost.

The Deputy Minister made this known at a press soiree organized by the Ministry of Information for selected Journalists in the Central Region with the aim of improving the relationship between the government and the media.

According to her, the media remain partners in socio-economic, development and democracy calling on journalists to continue help the government.
She stated that though the NPP government has a four-year mandate, what has been chalked under one year was marvelous and commendable.

Nana Dokuaa Asiamah who doubles as Member of Parliament (MP) for Akuapem North constituency in the Eastern Region, appealed to general public to join the government in the fight against illegal mining

While lauding the government for restoration of teachers and nursing trainee allowances as well as the recruitment of 150,000 trained nurses who graduated between 2012 to 2016, she appealed to Ghanaians to be a little patient with the government.