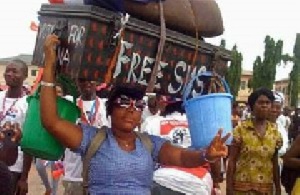 A student of history and politics, Dr. David Pessy says the Free Senior Secondary education policy of government is intended to hand the sector to private hands.
Starting this September, students at the various Senior High Schools would be running what government is calling the double track system; meaning they would be divided and made to go to school at different times of the year.

Dr. Pessy says government is experimenting with secondary education in a way that would land it in the same ditch as public basic education.

Most Ghanaian parents prefer private basic education to its public counterpart despite the cost involved because of the impact of the haphazard implementation of the Free Compulsory Universal basic Education (FCUBE) policy.

Speaking on Alhaji and Alhaji, Dr. David Pessy says the current experiment with free SHS would only land secondary education in the same soup.
"We've launched on a journey of improvisation with the education sector with the ultimate objective of creating a market for elite private education. In a few years hence, our public secondary schools would be reduced to what the "cytos" (public schools) became; to have any possibility of advancement along the educational chain, you have to go to an extensive private school," he said.