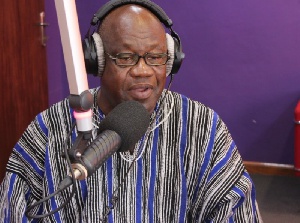 Former Minister for Information under the National Democratic Congress (NDC), Fritz Baffour, has hailed the New Patriotic Party (NPP) government's Free Senior High School (SHS) policy, urging the public to desist from politicising the move.
According to him, the policy, which was rolled out in September 2017 starting with freshmen, "has become a reality" and called for support to ensure that it is a success for the benefit of pupils across the country.

For him, the citizenry should rather devise ways to address the challenges associated with the policy and the educational sector as a whole and avoid unproductive criticisms.

He took to his Facebook wall on Wednesday, October 18 to offer the advice.
"Hello folks, I entreat all Ghanaians to come together to support our children any which way we can. The Free SHS has become a reality, whether we supported it or not, so it is a shame to see our children going through the trials and tribulations created by the dearth of the necessary inputs and facilities to make the initiative successful," he stated.

He emphasised that: "We must not politicise the situation though it is tempting for some of us to do so."

"Let's please consider our children and work with the authorities to address the challenges. Parliamentarians, assemblymen and women, PTAs and the general public should embark on doing due diligence to ascertain how best to assist. Yes we can! God bless Ghana," he added.