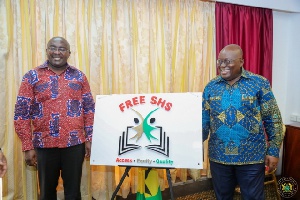 The Akufo-Addo government's free education for Senior High School students is the most important social intervention programme ever implemented in Ghana since independence, the Trades Union Congress (TUC) has declared.
In its estimation, the audacious programme, which was rolled out last Tuesday by the President, is the best way of distributing the country's resources equitably to the people.

"We believe it is the most equitable way to distribute the country's resources to all Ghanaians regardless of their socio-economic background," the TUC said on Monday in a statement signed by its Secretary General, Dr. Yaw Baah.

TUC said it has been impressed with the careful planning and rigour with which the various government ministries and agencies have gone about the implementation of the programme so far.

It has thus lauded President Akufo-Addo for walking the talk on his flagship educational campaign promise, promising to offer the necessary support to the programme.

The labour group saidit expect the Free SHS programme to dramatically improve access to education in all parts of the country.
It however said the government needed to go beyond the Free SHS to address all other related issues with the view to ensuring that quality of education improves.

"Government should begin to think of expanding infrastructure at the country's universities to ensure that the universities can absorb the large number of SHS graduates in the next few years. It expressed joy that Free SHS would provide immense opportunities for young people.

"The programme will increase the pool of educated young Ghanaians in the labour market. It will also increase the number of students seeking university education" it observed" it said.

The labour union said harnessing these opportunities would depend on the preparations that the country makes today, as "the challenges with job creation need to be addressed to ensure that Free SHS does not produce a pool of educated and frustrated young people. That will be costly for the country".

It argued that the best way for the Free SHS to pay for itself would be to put beneficiary Ghanaians to productive work.