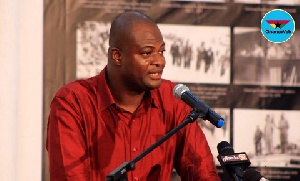 Senior Law lecturer , Dr. Raymond Atuguba, is advocating for a law to protect the free SHS policy, which Kick started in September.
Speaking at a constitution review conference at Dodowa Friday , Dr Atuguba said, there is the possibility of politicians toying with the policy in future hence the need for a legal framework to back it.

The free SHS policy has been politicized by the two major parties since its launch in September.

The Minority in Parliament have argued that the policy is not sustainable and that the government rushed its implementation to score cheap political points. Subsequently, some activists of the largest opposition party are posting on social media pictures of students sleeping in the open due to lack of accommodation.
Dr Atuguba however argues that "with a binding national development plan, once you put in the plan that every government must work progressively towards free SHS, then no government can scrap the policy."

."Let's say that if NDC [National Democratic Congress] wins 2020 or 2024, you know they can cancel free SHS, you know that? What sense will that make? But right now without a binding national development plan, they can do that. With a binding national development plan, once you put in the plan that every government must work progressively towards free SHS, then no government can [scrap the policy].

"…and we even added that before a government do that, a citizen can go to the supreme court and stop them," the lecturer added