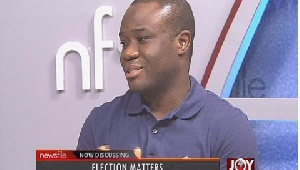 President Nana Addo Dankwa Akufo-Addo only hoodwinked Ghanaians with the free Senior High School (SHS) promise ahead of the 2016 election just for votes, Felix Kwakye Ofosu, former Deputy Minister of Communication, has said.
According to him, the Akufo-Addo-led government has no idea about how to finance and sustain the programme, but for purposes of votes, he had to make that promise.

His comments come on the heels of plans by the government to introduce a double-track system in the SHSs in September.

Government has explained that the two-track system is meant to cater for the spike in enrolment into Senior High Schools (SHSs) due to the free SHS policy.

The full implementation of the new system is expected to cost GHS323million. The objective of the double-track system is to create room to accommodate all the students, reduce class size, increase contact hours and increase the number of holidays.

The system is similar to the academic calendar used in the universities. With this system, each track will be in school for specific days for each semester and go on vacation and come back for the second semester. While the first track is in school, the second track will be on vacation and vice-versa.
Speaking on Good Morning Ghana on Metro TV Thursday, 26 July, Mr Kwakye Ofosu said: "Free SHS, as it was promised by the NPP to be delivered, has collapsed. Is government not scrambling to look for ways to sustain a policy that is clearly unstainable? This double-intake system the president is talking about is nothing more than a glorified shift system. You can call a donkey an ass and paint its face with make-up, it will still remain an ass, it will never become a horse, so, they can call it whatever they like, it is a shift system."

He added: "I am sure you are aware of the BBC interview with Mr Akufo-Addo on the free SHS. That poor performance by the president should have ended the free SHS debate because it was clear that the man whose vision it was supposed to be …simply did not have the answers to how much it will cost or how it was going to be implemented. It was the clearest indication that it was nothing more than populist rhetoric intended only to woo Ghanaians into voting for him."