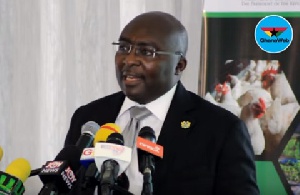 Vice President Dr. Mahamudu Bawumia has served notice government will deal with anyone undermining the smooth implementation of the flagship Free Senior High School programme.
He condemned the stealing of resources meant for Free SHS beneficiaries, promising those behind such acts will be brought to book.

"I want to see sterner actions taken against such persons, particularly those who decide to divert or steal resources meant for the FSHS programme," Dr Bawumia noted at the 50th anniversary celebration of the enstoolment of Nana Boakye Tromu III as Omanhene and President of the Duayaw Nkwanta Traditional Council in the Brong Ahafo region Saturday.

"What is rather sad and disturbing in the implementation of the FSHS policy is the desire by some Ghanaians to make sure the programme fails. In the last few months of its implementation we have had reports of deliberate attempts by some individuals ranging from matrons, heads of institutions, and others attempting to circumvent the regulations and stealing materials intended to benefit the children who are in their care. This is an unacceptable," Dr Bawumia stated.

According to him, actions to curb the situation should not just end at the doorstep of naming and shaming but also with prosecution, where applicable. Touching on the genuine challenges confronting the programme, the Vice President said, government had taken note of the problems "and is working feverishly to address them and by the Grace God, Ghanaians will reap the benefits in the very near future".

Touching on unemployment, the vice president reaffirmed government's commitment to tackle the situation head on saying, "we are working hard and coming out with policies that will create more sustainable jobs for our youth".
"We have come up with innovative programmes such as "Planting for Food and Jobs" and "Planting for Jobs and Investments" both in the Agricultural sector. I am reliably informed that, a large number of farmers in this District have registered and have been supplied with inputs to participate in the Planting for Food and Jobs and the story so far has been positive," he said.



Touching on the environment, the vice president urged citizens to be more responsible and protect the resources they have inherited from their forefathers.

According to him, the rate at which the forest in the Duayaw Nkwanta area is being depleted by illegal chainsaw operators was very worrying.

"In spite of the efforts being put in place by state agencies responsible for these resources, people are still destroying the forest with impunity. Frankly, this is a sad situation which should not be tolerated. I want to appeal to all those engaged in the illegal act to see reason to put a stop to it. Otherwise, the full force of the state will come against them soon, and there will be no safe haven for them," he said.